Ancient Buddha Pit used to be located below Lingshan Park, which served as a bomb shelter. During the 1970s, it was expanded into a rock ghotto tunnel, which cut through the foot of Elephant Trunk Mountain and borders Tamsui River. At the entrance of the pit is a gable-like roof with a suspending structure on the upper part and a hip-roof at the lower. At the top, the characters of 'Ancient Buddha Pit' are painted in gold.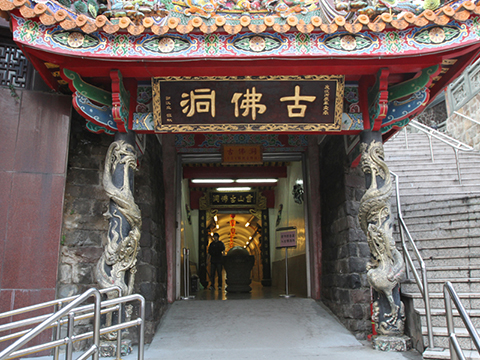 Besides the four celestial maidens at the entrance of the pit, there is also a 'Treasure-Guarding' stone mortar, which was found during the expansion work of Guandu River course in 1964. Today it is placed at the entrance for both tourists and worshippers to view. On top of the stone mortar is an ingot made from cast copper, believed to bless worshippers who touched it.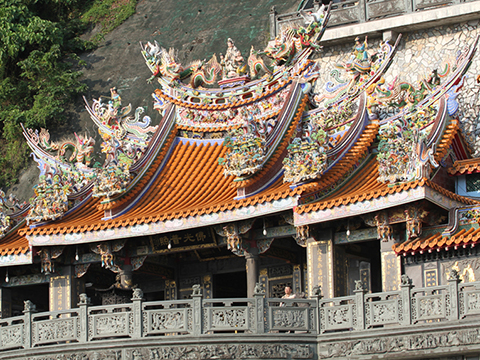 The most unique characteristic of Ancient Buddha Pit are the god statues on two sides of the passageway. The theme is affiliated deities of Thousand-hand Guanyin, which includes 28 main deities. From the entrance of the pit, we can see Mahasrideviya, Mahoragah, Garuda, Asura, Narayana and Brahma, as well as benevolent deities who protect Dharma, including Deva, Naga, Yaksa and Hariti. Among these 28 deities, most are Hindu legendary deities and their appearances are often seen with multiple heads and arms, half-human and half-beast or ghost-like forms, which often give visitors a deep impression.