Guangdu Temple is located below Bhaisajyaguru Hall. It is a standalone Buddhist temple in Guandu Temple. The temple is categorized into a central main hall that worships Ksitigarbha, and the rooms on both sides are compartmentalized by glass platforms consisting of eight areas for people to worship their ancestors and place the tablets of their deceased relatives.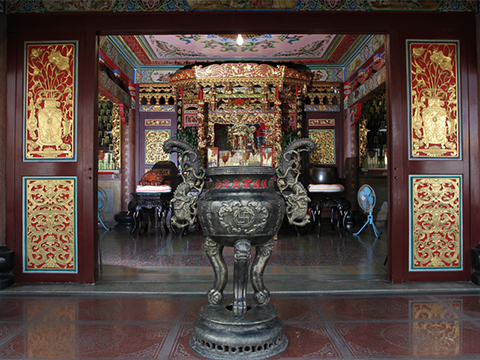 Guangdu Temple serves as an important ritual space for placing ancestors' tablets. Other than Lunar Chinese New Year, Qingming (Tombsweeping) and Mid-Autumn Festival, worshippers can visit Guangdu Temple to pay respect to their ancestors. In every sacrificial space, offering tables are set up with the statue of the main deity Ksitigarbha and for worshippers to place their offerings. Every year on the first to third day of the lunar seventh month, Guangdu Temple will conduct the 'Yulan Ritual for Salvation of the Purgatory' for ancestors and dead souls. Worshippers can also register for their deceased relatives and take part in the salvation ritual.
  At the same time, they can receive the blessing from Ten Directions. Worshippers can also use the merits from the ten directions, to bless their ancestors and enable salvation of dead souls. The ultimate objective will be to guide these souls to another world freed from suffering and evil.