On the right side of the square in front of Guandu Temple, there stands Golden Pavilion, where incense paper is burnt. Golden Pavilion was built by bricks with Reinforced Concrete; the roof was inspired by Tented Roof, which was a type of polygonal hipped roof with steeply pitched slopes rising to a peak. The roof of Golden Pavilion has three levels with brims; the tops of brims are covered with amber tiles, including those shaped like dripping water. Each ridge of the brims is embellished with clay artworks; the themes are 'Chiwen Against Fire' and 'Phoenixes in Flight'. On the top level, Suan-ni, one of the dragon's nine sons who loves smoke, is sitting there. Surrounded the brims, lanterns carved in the shape of flower baskets are ornamented all around; the whole pavilion is a sparkling golden lodge.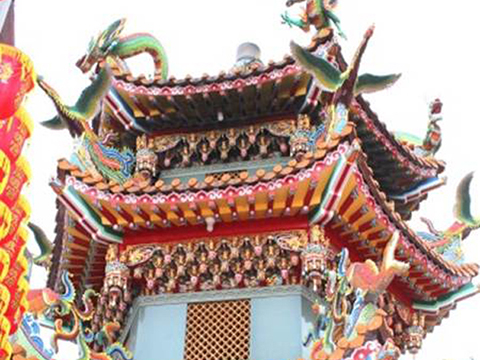 On the first layer, carps spray water from their golden mouths; the water changes into vines, which is quite interesting. Meaning preventing conflagrations from happening, it is the most popular decoration on the roofs of traditional buildings. The wall of the pavilion is full of stone carvings, with rhyming couplets on it. In front of each wall, there stand six dragon pillars.
  On the second layer, phoenixes fly. On the top level, the dragons look into the sky, walking in clouds. Under the brims, wood-like bracket structures are ranked orderly. Lanterns carved in the shape of flower baskets are hanging every corner. The chimney is made of stainless steel, which is smoking time after time. Around it spirals a dragon, looking down, like it is pondering mundane things in the world.