Merit Hall is located at the foyer from the outer edge of Main Hall. It is a standalone architecture which was constructed by adding shelter to the side of the hill. Merit Hall is based on the first floor while the second floor is Chrysanthemum Longevity Pavilion serves as a place to relax. A third floor was later added, which serves as a multi-functional space known as Golden Dragon Hall.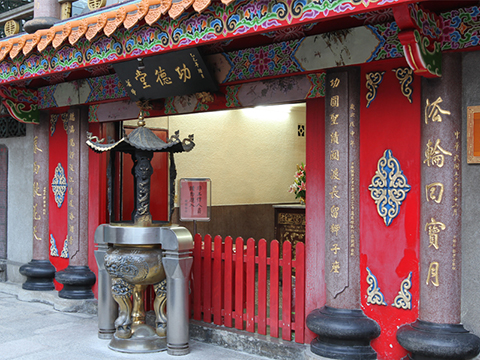 Distinct from the other places of worship in Guandu Temple, the main deity of Merit Hall is Ksitigarbha. It also houses past ancestors. Since the establishment of Guandu Temple during the eighteenth century and up to the present day, people with notable contributions are worshipped here. For example, the first generation founders Bhiksu Mien Yüan and Bhiksu Shih Hsing, the initiator for renovation Chen Hung-Ying, the first director Chen Lin-Fu and memorial tablets of past ancestors, which serves to commemorate the contributions made by these ancestors to the development of Guandu Temple.
  After worshippers have paid their respect to these ancestors, they can walk up the side stairways and proceed to Chrysanthemum Longevity Pavilion. On the sides of the entrance, there are green-glazed floral tiles and colored decoration on the walls and ceilings. The method of embellishment on masonry is used to narrate the propagation of Buddhism by Shakyamuni. Viewing from Chrysanthemum Longevity Pavilion, one can see the stream of worshippers visiting Guandu Temple.